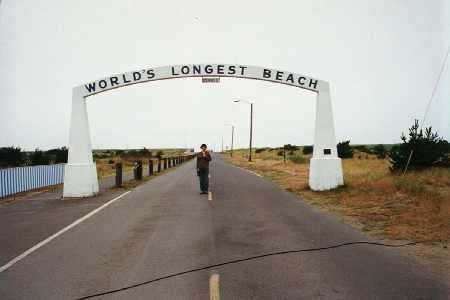 Click below for more thoughts and comments
It is very hard for me to believe that it has been two years since your passing. Your light, courage and energy still shines in the world in all that knew you.
Bob Vomaske
09.28.2004
the falling leaves and glowing golden light of this day
thinking so much of my wonderful friend
hawthorne haw big smile and emerald eyes
i want to walk over to her house and get her so we can drive to sauvie island
and get dahlias and squash and talk and talk and laugh
music and orange leaves floating around her
telling me how everything is, looking amazing and beautiful
miss her so....

. gilly ann .
09.28.2004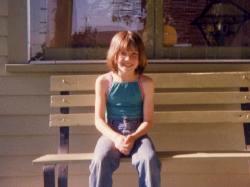 I have been thinking a lot about Hawthorne, especially this week...and the beautiful weather makes me think of her. I am going to go out to a nice lunch today _outside cafe type (very Hawthorne) and give her a little toast!

What a Gem, I will never forget her.
Shari Eisland
09.28.2004
I often think of my pal "HH". That's what I always called her (we used to work together at W+K).
I walked in the Race for the Cure recently and while their focus was breast cancer (I lost my 54-yr old mom to it); I thought of all the strong women I've known who have battled/battle cancer. I told my walk mates about H.

I'm deeply humbled having known her. Thank you and my heart goes out to you for your loss.

Andrea Moulas
09.28.2004
I remember Hawthorne because she was such a delightful, beautiful child, so sunny and warm, friendly and ever so bubbly. I find myself thinking about her and her wonderful Father every now and then, and how sad I am for her dear Father, who loved her so well.

Love to you dear,
Billie Mason
09.28.2004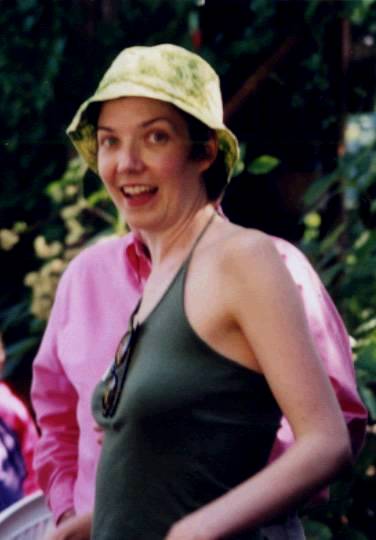 It seems hard to believe it has been 2 years. For you it probably seems much longer. I honestly feel so bad that I was never able to meet her but reading about her on your tribute page - you get such a sense of her that you do feel like you know her. That tribute page still amazes me. I'm thinking about you today and sending good thoughts your way. Take care.

Valerie Ebinger
09.28.2004
I remember your spirit and energy so well. remember us too Hawthorne.

Much love and blessings,
Paul Missal
10.14.2004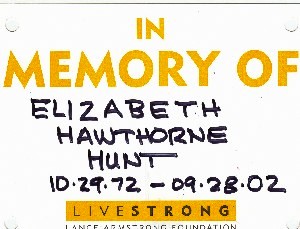 I dedicated my 100 mile bike ride to you today. I could feel you with me. Impossible for me to comprehend that it has been nearly three years since I've held your hand, touched your hair, heard your laugh. Seems like yesterday. I keep thinking you are on a trip and that you will call soon.
I love you forever,
Daddy
10.25.2005
I still see your face clearly, hear your laugh, remember the grilled cheese you brought me. I printed 
some photos from here to do a painting of you, with your paints. I haven't started yet because I'm not 
sure which one I'll be able to paint best. I apologize in advance if you end up looking like shit. I can 
hear you laughing. I still see the blue birds all the time. Am I nuts? But I think of you and smile anyway.
 I miss you. 

Melanie M
10.10.2005
oh my.. I only met hawthorne a few times during her friendship with another friend of mine - courtney. When she was living on division near where the Good Foot now is, they had stories of knowing the local corner shop owner very well and how much they enjoyed getting his extensive beer advice. I remember reading the dishwasher zine and seeing hawthorne poised in a photo in it and thinking how sweet of a person she always seemed to be. I just now read that she was at OHSU when I was at school there, and I wish I had known.

R.I.P. cool girl.

Nick
02.18.2006
Just wanted to visit again this sweet Angel. Soon it will be 4 years that she gained her Angel Wings, it must be impossible for her family and friends to think that 4 years have passed since they last saw and spoke to her, but I am sure she is always near her loving family and loved ones.

Ana
09.20.2006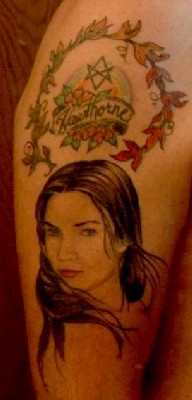 Latest Dad Tattoo
I was just thinking about Hawthorne, I didn't realize her birthday is in 2 days.
I was blessed enough to have a child, a son, last April & I hope that I raise such a creative, energetic, beautiful & confident individual as you raised Hawthorne.

I miss her.

My thoughts are with you.
Liz Sullivan
10.27.2006
Never, ever will I forget your beautiful daughter. I think about hawthorne often and every time I do, she always brings a smile to my face. I love that I can still hear her distinctive voice and see those intensely gorgeous eyes of her. I miss her terribly but feel so privileged to have known her.

Marni Beardsley
09.28.2006
Four years have passed yet my heart still aches with sadness, silent tears still flow and forever will.

Dad
09.28.2006
I had Hawthorne on my mind all day for some reason. I think it started when the song "Across the Universe" came on the radio. Just thinking about her.

Keith Crowe
11.20.2006
I was thinking about Hawthorne this morning as I reflected on Elizabeth Edwards. I taught Hawthorne during the years she was at PNCA. It has been heartbreaking to have lost several members of her class. They were so full of life and love.





Betsy (Lindsay) Slaughter




03.27.2007
Dishwasher Pete
Hello Frank,
My name is Pete Jordan and I was a friend of Hawthorne's. I was so sad to hear the news several years ago. Hawthorne was a very special person who made me feel on top of the world every time I saw her.

I had a goal to wash dishes in all fifty states and, of the hundreds of people I met along the way, Hawthorne was quite probably the person most enthusiastic about my project. I loved hanging out with her after hours back when she worked at Genoa.

I wrote a book about my dishwashing quest and mentioned Hawthorne in the Acknowlegments and (briefly) in the book itself. I'd love to send you a copy. If you can e-mail me your address, I can get it in the post.

Take care,
Pete
04.20.2007

I think of you often Hawth, I know you're looking out for the rest of us. Miss you.

Ned

06.05.2007
Oh Hawth, I miss you. I will never forget the day Hawthorne, who after her first round of cancer treatments, popped her cheerful self into my office one day and started drawing on the chalk wall in my old office in 4/SW. She drew this amazing blue shoe, with what looked like her own leg attached to it. She and I both colored it in and it stayed on the wall. That blue shoe now hangs by the coffee bar. Please think of her vivacious, bubbly, stubborn, goofball, energetic, child-like self every time you walk by it. She was a gem.

Melanie Meyers
06.15.2007 (from her email: "A really fucking long goodbye email.")

Two nights ago I dreamed Hawthorne and I were having dinner at Three Doors Down. We talked about how much things had changed since we first met. We talked about how summer was over and it was going to start raining soon. She told me she had a daughter the same age as mine (three). Right before I woke up I told her I was sorry we hadn't seen each other in so long.
Once I woke up, I realized she was gone. I still miss her.
Bert Lowry
10.01.2007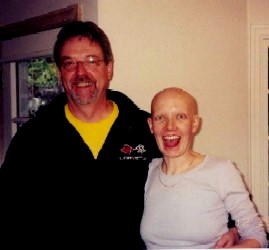 Hawthorne and Dad December 2001

Dear Frank and family,
Sending you my thoughts and prayers. I am sure the wonderful memories of your special daughter Hawthorne will give you confort. She is always remembered for her gentle spirit and great talents.

Love,
Ana
10.02.2007

Click below for more thoughts and comments


If you would like to share your thoughts about Hawthorne, her life o her impact on you,
please click HERE